Sukiko
Progress on Sukiko has been great this week. I'm now on around 200 renders, plus animations.
So, let's go though what exactly this game is about.
The plot
Sukiko is the new girl at the office and has been there for about 4 weeks. She hasn't really made close friends with anyone there, including you, and doesn't seem to have many friends away from work either since she hasn't been in the country that long.
You've tried starting a rapport with her, and you're probably more friendly with her than anyone else in the office, but still not exactly close. But all that is about to change…
If there's one thing you know Sukiko loves, it's the V-Girl podcast! The 27th most popular podcast in the world!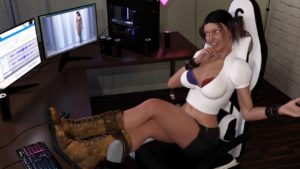 Sukiko enters a competition to party with the V-Girl herself at an exclusive party on a Caribbean island. When her phones rings, she answers with the winning phrase and wins her dream of meeting and partying with Violet!
Only one problem – the prize is a free trip to the Caribbean…for two. So, who will she take? Why, her 'best friend', you, of course.
What follows is a luxury trip to paradise, while Sukiko and yourself finally get to know each other properly. Play it correctly, you will even get more that just friendship.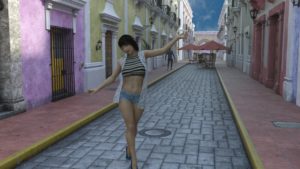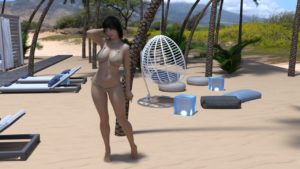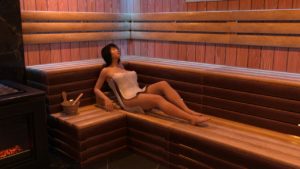 I will be honest and add one more thing. In the first post I announced this game, I said that 'there would be a big emphasis on replayability', or something like that. As work on the game has evolved, a lot of that has been pushed to the side. There will be some replayability of course, but probably about the same level as Molly and Marianna.
I don't think that's a bad thing though. The more linear plot means I have more control over exactly how things play out, which seems to be making things hotter and more satisfying.
Advent Calendar
As may also have noticed, it's December and there's no advent calendar this year. Obviously, this is because I'm working on Sukiko instead.
I shall therefore do what I did (I think) 2 years ago, where I just posted a Christmas themed galley right before Christmas day.
It it's a choice between an advent calendar or a new game, I'm guessing you all will pick 'new game'. 🙂