Not a long, intensive post this week as I just had one on Monday. Progress with Photographer Part 3 is…progressing.
One final note though. As those of you who follow me on twitter will have seen, I've had to update Maddison's hair.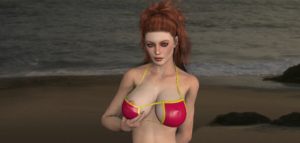 The other new one wasn't being cooperative. Depending on her exact pose it was sometimes impossible to control her hair in a way that looked good. So, this is what's she's going to look like for a majority of the game now.