Poll
So, first of all, thank you to everyone who voted in the poll last week.
Although the 'Give them their own game' option did get more votes, there wasn't that much in it overall. Judging by the comments, the main thing to note seems to be that people weren't too bothered either way, as long as they get the sisters at some point. So, for now at least, it seems like I'll just persevere with both Maddison and Lisette being in this game.
Photographer 3
As this game takes place in the island paradise setting, we'll be seeing returning characters from the games previously set there.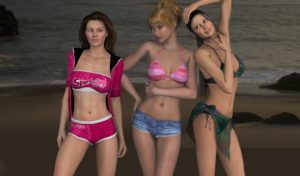 I like both Miranda and Zoe the way they are, so I'm not planning any big alteration to their looks. Emma though never quite reached her full hotness potential. As a test, I thought I'd try her with longer hair. As you can see above, it really, really works, so this is officially her new look!
You may notice that Faye from Miranda's game is missing. I'm probably not going to use her as I already have three other redheads in this game. Also, I don't think she was ever really that hot (unless she has a big hidden following here. Shout out if you need her to be in this game).
Dsp3000
Still no news from dsp3000. Hopefully he's OK. I'll let you know as soon as I hear something.