Hello everyone.
Today, I'll be giving a more in depth preview of my next game, Yessenia.
Yessenia Vacarescu is a Romanian born star cellist, a prodigy from an early age. You play as her bodyguard while visiting and performing in America.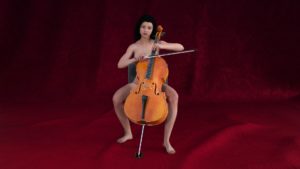 While doing your job, it becomes apparent that Yessenia's manager, her father, is a little controlling and doesn't allow for much fun or free time in her life. To add a catalyst to the situation, she has been approached to pose nude in the newly relaunched Playtime magazine.
The game will focus on an evening of Yessenia escaping her fathers control and exploring the city, accompanied by you the entire time. Will she decide her father is right about everything? Will she rebel and pose nude for the photoshoot? Will you find something in between? It's all up to you!
Yessenia will be a members only game, probably around the same length as Sukiko. It should be release sometime in August.