New game?
I'm still throwing around ideas in my head (and some on paper), for what a new game could be.
I certainly like the idea of using new Maddison, but I'm not fully set on it.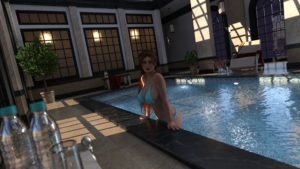 I've got 2 variations on a similar idea that I like that I think could work well.
Violet has a new competition on her podcast that both you and Maddison have entered.
Version 1 : You must submit to Violet 4 of the most daring public nudity phots you can take this evening. Although you only need a minimum of 4, there can be 12 to 'collect' in total for completionists. If your photos are better than the other contestants, you win.
Version 2 : I'm referring to this one as '30 minutes nude'. Violet has given you a camcorder. By midnight, you must bring her 30 minutes of footage of Maddison naked in at least 5 public places.
Both setups have their pros and cons. I feel like version 1 is maybe a little too boring compared to version 2, but there's some logistical issues with version 2, such as why not do 26 minutes somewhere public but safe, then do a 1 minute flash everywhere else. I could add additional rules to the competition to restrict it, but I also don't want to overcomplicate it.
Whatever I decide, I seems that I'm set on doing at least 1 game before Christmas.
Random Polls
And here's some random polls that could help me decide on a few options.
Which is hotter ; sex in front of a consensual crowd where everyone can see you, or sex where you're hidden and not supposed to be there, but people could see you at any moment?

Loading ...
2. For the next game, would you prefer controlling/playing as the woman, or playing as the male who's 'dating' her (like normal)?

Loading ...
3. Since there's a possibility this could be my final game, I thought it might be interesting to do a dating game which is a homage to my older ones, including basically the same scenarios.  ie the bikini party from Crystal Part 1, the nude painting from Maddison, the strip clubs setups etc.
Is this appealing, or should it all be new setups and locations?

Loading ...
I may add more polls later, so check back and refresh the blog later if you can.