Now that MrStomper's Anna is released, it's time to bring you all an update on where my own games are at, because a lot has changed.
Last time I spoke about myself, I was working on a mystery game set at a motel and using characters based on the next generation Genesis models.
It was going well, but I started to have reservations. What I finally realized, was that I really liked the characters. They're all very hot, and their personalities really started coming out. You see, I started off with the basic idea of doing something similar to Pool Party, where it would be fairly short, and would end in some sort of orgy. That worked well in the original Pool Party, but only because I used a set of characters everyone had already seen before.
In the motel game, I was rushing through introductions to get to the sex. It didn't feel right. These new characters deserve more than that. So, what's the solution? Expand the game? Maybe, but I really don't like padding things out. The game is designed to be about 300-400 images. Well, how about doing a different game with them? Something big. Something inspired more by the style of Betsy. Who could be the focus? Well, Leanna has the most useful personality for it.
Within an hour, I had isolated the problem, and come up with a solution. Digging through the series of notepad files where I add notes whenever I get ideas, I assembled the basic premise of the new game in no time. Over the next few days, it developed into a nice long story about helping someone find herself and making friends with those around her at the same time, and I was very happy with it.
The only problem was that I'd already spent more time than I'd like working on the motel game, and if I really wanted to do this new one, I might not even finish it before Christmas.
Well, I already had the plot and the sets, so let's use it. If I'm using Poser instead of IRAY, I could easily get through the entire thing in about a month. In order to avoid my original problem though, I would have to use characters I had already used before. Well, how about April and Violet from the Betsy game? That could work! They were popular, and players seemed to want more content from them. So, that's what I'm doing!
That may not have been the most practical way of explaining my decisions, but I really wanted to give you a sense of what my internal monologue went though.
So, to summarize, the motel mystery game is now "April and Violet", and I've re-purposed the characters I originally intended for that game into a new one with Leanna as the central star. Here's the summaries for each of them…
April and Violet
Set several years after Betsy, You are travelling across the country by car. As night sets in, your only choice is to stay at the only motel you can see. To your surprise, you find April and Violet are also guests.
After some evening fun, and a good night's sleep, you wake to find yourself trapped there. Yourself,  April, Violet, and the receptionist, Dylan, work together to discover what is going on, and how to escape.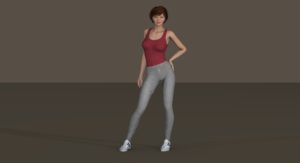 I've kept the Dylan character from the first version, but had to remake her as a V4 to be compatible with Poser.
April and Violet will be a members only game. You will be able to select your gender and ethnicity, and it will all be in first person. Hopefully, it should only take me around a month to finish.
Leanna
While I'm making that game, I'll also be rendering the occasional image for Leanna, and once April and Violet is released, I'll be working on it full time.
I'll get into more details over this game in later posts. For now I will say, that, as you can tell by the images below, Leanna is a local news anchor. Unfortunately, despite her likable on screen persona, she has a bit of a personality problem in real life. So, yeah, I'm going full 'taming of the shrew' for this one.
The game will see you befriending her, and trying to improve her 'karma'. Kristen and Molly will both also have notable parts in it, similar to April and Violet in Betsy's game.
All of the images will be rendered in IRAY, which looks great, but does take a little longer. Hopefully, this will be finished before Christmas though.
I am also planning to release this for free – sort of. When I released Betsy for free, a respectable amount of people signed up to the members section, though obviously not as much as when I release a members game. So, for Leanna, as an experiment, I'm going to try posting it in the members section on release, but then releasing it for free soon after. Maybe as soon as only a week later.
80% of new signups occur in the week after release anyway, so this could be a good system. If it's successful, maybe it's become a regular way of doing it. People can pay for it early if they like, or just wait an extra week and get it for free.
That's all for this week. Next week, I'll have more details on both games.