While I progress with the expanded content for Leanna, I'm still finding myself trying to decide what to do next.
In my last blog post, Kenta asked if there was still a possibility of a new pool party game. I'm not too sure if this is what he had in mind, but it did start me thinking.
There's a number of secondary characters in Leanna which people have expressed an interest in seeing again, but in a much more intimate way. Debbie, hostess of the pool party. Leanna's 'friends' from the yoga and basketball scenarios, Henrietta and Lysander. There was also the bunny girl waitress from Mr Hughes party, Ashley.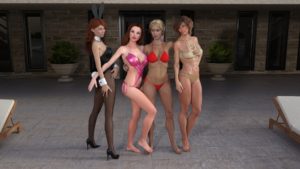 On the positive side, I don't have to create any new characters, I can reuse a lot of the sets from Leanna, most notably Debbie's pool. That would save much more time and effort.
On the negative side, I can't see this being a game with a strong narrative. It's yet another game where every sexable character is white. I'm also not really into any of the characters that much, except maybe Ashley.
Last week I listed a number of other possible games I could start working on next. They were :
Betsy squeal
Crystal part 3, either in IRAY or Poser.
A 'girl group' game
The 'Nascar' game
A superhero-centric game
Do you prefer the Pool Party idea, or one of the other ones?

Loading ...
EDIT : Random bonus image – Lissette rendered in IRAY with new shaders applied.