April & Violet
April & Violet – Part 1 has now been released. Despite it only being Part 1, I am very happy to say that it still ended up at close to 1000 images. Members can now download it or play online via the members section. Here's the link to the previews and the free demo : http://www.vdg-offsite.com/aprilandviolet.html
If you can't see the game, remember refresh your browser.
I hope everyone enjoys it. It's been a lot of fun to make this game.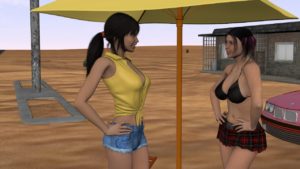 Future games
My next game will be April & Violet Part 2, and I think I've released some final decisions on what the game after that will be.
Sienna/Leanna is still 100% happening, but I'm still learning when it comes to rendering with daz studio and IRAY. As a result, I don't feel that I can accurately predict when I will finish the game. I can be optimistic and just say "Oh, I'll aim to finish it for February", but it doesn't feel very responsible. For all I know, it might take until Christmas 2017 to finish.
To give an example, the preview image of Sienna I added to the blog last week took around 5 minutes to render, but earlier this week, I rendered an image of her at home, and thanks to the details, glass and reflections, it took around 3 hours to render.
So, I think the professional, responsible thing to do is work on it when I can and say, "It'll be finished when it's finished", with no real exceptions of a release date. I'll be very surprised if it isn't released in 2017, but I can't be more accurate than that at this moment.
Long term followers of my blog will be aware that I've been determined to complete my Crystal trilogy for a while now. I think I'm finally inspired to do it.
Earlier in the week, I took some time to experiment with shader scripts in Poser, and managed to get Crystal looking like this…
I'm really happy with the results, so, finally, it looks like Crystal Part 3 is happening.
It certainly makes sense to use her next. My long term plan is to be using the newer Genesis based characters and IRAY for all of my games, which would make Crystal Part 3 the last game I make with the older V4. Considering Crystal Part 1 was my first game, it seems very appropriate.
I'll get into details at a later date, but here's the basic premise of the game…
As established in earlier games, Crystal is a very keen swimmer. She has gotten so good at it that, that she is now competing professionally. This is great for her career, but it has been a strain on your relationship. You haven't even seen her for six months as she travels the world to compete in competitions. Now though, she is returning home, though only for a week. You have seven days to rekindle the romance and save your relationship.
What I particularly like about this idea is that, to be blunt, it will mean a lot of sex. I'm very proud of my games like Betsy, but there isn't much erotic content until you get towards the end. With this premise, you can have sex every day of the week, including near the start.
After slightly awkwardly rediscovering your feelings towards each other on the first day, you make a pact with Crystal to have as much fun this week as possible. Basically, the whole thing turns into a week long dare game that get's crazier every day. Working title was 'Crystal Part 3 – The Wild Week'. Expect lots of public sex in very daring places. I will also probably be integrating the character of Mia into this.
So, to summarize, the schedule for the site looks something like this :
April and Violet – Part 1 : Now (released today)
Academy Part 3 : End of November/early December
April & Violet – Part 2 : Late December/Early January
Crystal – Part 3 : Probably early February
Sienna/Leanna/whatever I end up calling it : Later 2017, maybe May, but possibly later, or even earlier.
And yes, Crystal Part 3, will be free! As I suggested in a earlier blog post though, I may give it to members a week early.
Tumblr
Something I've been planning to do for a while. A comment of the blog earlier in the week finally spurred me to do it.
I've set up a tumblr account. You can find the page here : http://vdategames.tumblr.com/
I'll be adding the occasional image. I'm frequently making lighting tests or WIP images for new characters, so I think this'll be a nice place to post them.
There is also a link to it on the site's front page, next to "coming soon.".
Poll
Having trouble thinking of a poll, so how about this for today – Who's your favorite out of Betsy, Violet and April?

Loading ...
Next week (and for the weeks following), you'll be hearing from dsp3000 and the progress with this new game, The academy : Part 3.