Hi everyone. I just want to add a quick mid week update to explain what exactly is happening with Leanna.
Leanna
Last week I was free from work, and from doing any vdg based work too- the first time I've done so this year. This also gave me some time to think about things.
After much internal monologue deliberation, various things scrawled on paper, and a respectable amount of math, I ultimately came to the big decision that IRAY renders and Genesis 3 base figures are a grossly impractical way of making games like this. I've been working steadily on Leanna now for about 4 months, and I've still only completed around 400 images, and at the most I can get 16 images per day maximum (and that's if I'm lucky, and if I'm batch rendering some of them over night). Although I've been working on the assumption that the game will be around 1000 images, Betsy ended up being around 1600. If that's the case, I'll be lucky to finish this for May 2018!
To give another comparison, Mortze made all of the images for Finding Miranda with IRAY, and that took him a full year. And he was only using the V4 models which don't require as much rendering time. And he was only rendering at 1280×625, as opposed to the 1700×1000 I am. And, of course, he was only doing the images (Tlaero wrote it and did all of the html stuff, with some help from Kexter). I'm rendering the images and writing everything for this game! So, looking at that as a comparison, spending year and a half to render all of the images seems likely.
So, what to do?
I could persevere, maybe keep rendering Leanna images whenever I have some spare time, but release other Poser rendered games along the way. However, that could up to four years to see it completed if my math is correct. While I'm not planning to retire in the immediate future, it is possible that I might not even be making these games then.
So, despite it meaning dumping a big pile of work, I think the right thing to do is try making Leanna using Poser instead. Unsurprisingly, I at first had some reservations about this, but after downgrading her character to a V4 (Genesis 3 doesn't work in Poser properly), I'm feeling really optimistic about this.
EDIT : Here's a more updated one too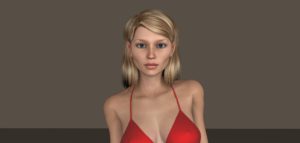 She needs a little work from the side view, but a lot of me actually thinks she looks hotter now. I'm eager to hear any options below.
So, my plan is to spend the rest of the week setting up the various main characters so I can just get along with the rendering next week. For those worried that this will push the release date really far back, it shouldn't be too bad. Poser images render much faster than those with IRAY, and my PC is basically designed to render them quickly. By comparison, I can get up to 70 images rendered per day as opposed to IRAY's 18. It may only take me a couple of weeks to where I already am with the images.
So, what is happening with IRAY images
Well, there's a couple of options. I could just release the unfinished IRAY version of the game when I release this one. Or, another possibility is to just keep working on it whenever I can and release a sort of 'Leanna HD' when it's finally finished. I'm open to suggestions if anyone has them.
Either way, for those of you who've become attached to the Genesis 3 version of Leanna, I will find a way for you to see her naked, even if it's just a case of making a photoshoot gallery.
I'd love to use IRAY renders for something. I've been toying with doing some comics for a while now (basically just linear stories as opposed to games). They'd likely just be about 50 images each, so that seems much more feasible. Mini games might work too. the likes of 'Kelly Solo' are only around 50 images each.
In any case, the main thing to take away from this post is that IRAY renders with a Genesis 3 base is not a practical way to make images for games like these. In a few years time, technology will probably exist to render everything ten times faster, but that day isn't here just yet.
Keep an eye on my tumblr for more updates on this, but in the meantime, I'll just be handing the blog back over to dsp3000 and his upcoming game.
Poll

Loading ...