Photographer part 3
Just a small post today to let you all know that things are progressing.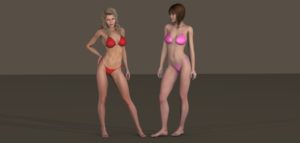 These are the final two ladies to formally introduce you all to. The blonde is named Cherise and the Asian lady is called Kimiko.
Long term followers of the site may remember Cherise from when I planned on doing Crystal part 3. Since that game is most likely going to be done in daz studio with g3 base figures, it seems appropriate to use her for this game.
dsp3000
Since we're now all aware of dsp3000's situation, it seems reasonable to just let him continue at whatever pace he can do. If he sends me something to post, I shall do so, but until then I would assume you'll just be hearing from me on Fridays.