Just a small update today.
Many people were disappointed with the idea of the April & Violet game just having one sex scene at the end with both of them together. So, I floated the idea in the comments section that I could still include the two solo sex scenes, but release the game in two parts. This seemed to be a very popular idea, so that's what I'm going to do!
The plot was already designed so that it could work this way anyway. I started the game with the intention of using new Genesis base figures and rendering everything in IRAY, and since I didn't have much experience with them, I didn't know how long it would take to make a game. So, in preparation, I setup the plot so it could be released in 2, 3 or 4 parts. The 2 part plan is what I'm going with here.
So, part 1 will include the sex scenes with Dylan and Violet, and Part 2 will include April's sex scene and the groupsex at the end.
Since this won't mean I have much work to do before I finish, I will be releasing Part 1 this week, on Friday the 28th.
Following that , the schedule for the site will probably be dsp3000's Academy Part 3, and the April and Violet Part 2 all before Christmas.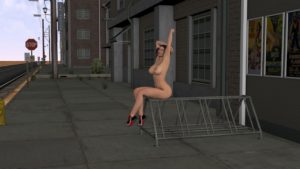 Bonus
As a quick bonus, here's a nice image of my next main lady when I'm done after April & Violet. Looks like I might be officially naming her Sienna, but I'll have to think about it. I think my subconscious mind was thinking that Sienna work as a newcaster's name because of CNN. CNN-a. Get it? I'll deal with ti later though. Sienna's still a nice name.