Right now, I'm working hard on the next members game, April and Violet. I'm happy to say that it is already about 300 images.
New engine
One thing I did not mention last week, was that I've slightly altered the game engine a little. Normally in my games, you hover over a hotspot on an image and a tooltip appears after a moment. This is fine on a desktop, but it can be a problem if playing on a tablet or phone.
Many, many more people are using using devices to play these games now. Compared to just 2 years ago when about 40% of players did, now it is up to a massive 97%. Here's the full operating system list from the last 24 hours :
| | | | |
| --- | --- | --- | --- |
| 1. | Android | 40,924 | 51.95% |
| 2. | iOS | 35,095 | 44.55% |
| 3. | Windows | 1,624 | 2.06% |
| 4. | Windows Phone | 707 | 0.90% |
| 5. | Playstation Vita | 209 | 0.27% |
| 6. | BlackBerry | 106 | 0.13% |
| 7. | Nintendo 3DS | 72 | 0.09% |
| 8. | (not set) | 21 | 0.03% |
| 9. | Samsung | 17 | 0.02% |
| 10. | Bada | 1 | 0.00% |
For the new version of the game engine, I now have text that appears below the image. If you're using a tablet or phone, just touch and hold your finger on the screen to find the hotspots, then tap to use it. Here's the demo : www.vdategames.com/test/begin.html
Let me know any feedback below.

Loading ...
If your answer is no, please specify what went wrong below. Remember, if you don't say what your problem was, I can't fix it!
Extra stats
While I'm listing some statistics, here's one more small set. While ago we were discussing which gender and ethnicity options were worth doing based on how many people use them. I never got around to posting them though, so here they are now :
White male – 63%
White female – 17%
Black male – 15%
Black female – 4.5%
So, white male is clearly the most popular option, but around 21.5% like playing as a female.
April and Violet will have all four options (for continuity if nowthing else), but it for Leanna, I'm going to try just white male and white female to save rendering time.
April and Violet
Not much to add for April and Violet. Progress is going well. The first sex scene (Dylan) is all done. Each of the three main women, April, Violet and Dylan, will be getting a sex scene where it's just them and the player, with one final foursome scene at the end.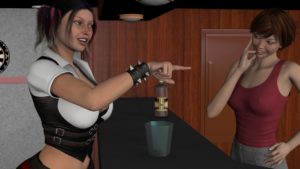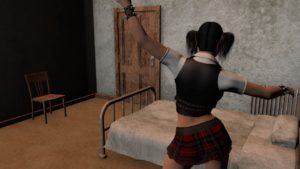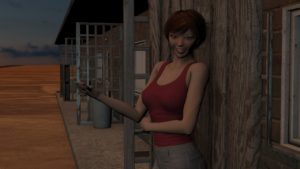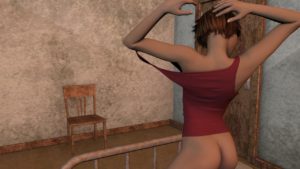 Leanna
As I progress quickly though that game, I'm also making slow progress through Leanna.
I won't post too much of it until April and Violet are finished. Here's an extra sample though, showing Kristen in her new role as Leanna's personal assistant.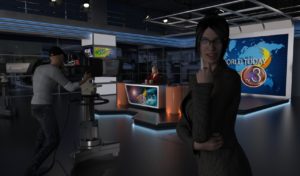 Anna downloads
As a final note, some people have contacted me saying that they are having issues downloading Anna. I'm not sure what could be causing the problem, but I've added a separate download option so that it is divided up into several smaller files. Your zip software should be able to join them together.