April & Violet
Progress is going very well, and I feel like I'm nearing the end of production. At this speed, I think a release date of November 4th is very likely, but I'll refrain from saying it's official until I'm more certain, which will probably be next Friday.
Since I refrained from it last week, today I also have lots of pictures to share with you.
After spending the night at the motel, April discovers that her car has been drained of gas…
After discovering you are all stranded there, both April and Violet change into something better suited for the heat…
April takes charge figuring out your options, while Dylan tries to help, and Violet nurses a hangover…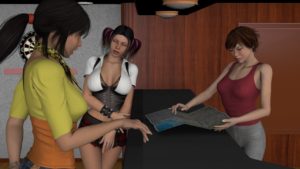 Violet and the player investigate a nearby town only to find it deserted…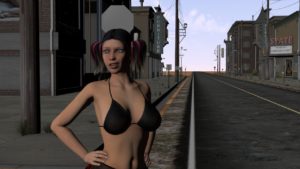 Finally, you find some gas….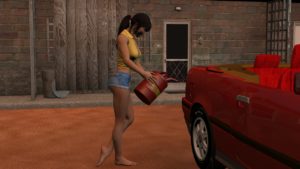 …but it may be too good to be true, as April spots something disturbing in her mirror!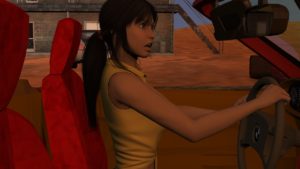 Since it is supposed to me a mystery what's going on, I don't want to get into too many details about what's happening, but that should be enough to start you guessing for now.
I also have a bit of an update on the sexual content. In earlier posts, I stated that there would be one 'solo' sex scene for each of the three women, then one orgy at the end. Sadly, (or not) I've decided to change that.
There were a few aspects about it that were bugging me. I think the biggest issue though was the pacing. Since it's only a medium sized game, having four separate sex scenes makes the sex too frequent. By comparison, Betsy is about 2.5 times the size of what this will be, and that only has three.
So, instead, I decided to demote the solo April and Violet sex scenes to just nude scenes, but on the more more positive side, this means I've decided to expand the epilogue sex scene with them both involved. The sex with them at the end of Betsy was a little brief, so this should more than make up for it. Doing it this way should also mean I finish it a bit quicker.
It also makes a bit more sense with them being in a relationship. I was going to have them make a rule where they're allowed to sleep with you because of a deal they'd made, but having an epilogue scene where you all just agree to get naughty in a hotel room after the main plot makes much more sense. Also, inspired by comments on the blog, I will be having a 'titty-fuck' with Violet and deepthroat blowjob with April as part of that scene!
Leanna
Last week, I added a note to the blog say that, although I love Leanna's look, I was having some trouble with her face. I don't know what it is about her face, but it's really, really difficult to get her smiling and not have it look weird. It's like the rest of the face doesn't shift with her lips properly.
You can see what I mean by these images…
So, I started working on a new face. Bit of a character change, but I'd rather do it now when I'm so early into production. This is what I've come up with. Everything else is the same, it's just the face I changed….
I like it! She somehow looks a bit more like a news anchor to me. More mature, but not necessarily older. Slightly sterner face too, which fits with the 'bitchy' personality.
This is how her smile looks now…
Which looks much, much better to me. It's probably still tweak it a bit over the next week, but this'll be pretty close to what I use.
Very interested in what everyone thinks about the upgrade. Leave your thoughts below if you have any.
This weeks poll
I've decided I really like having polls on the blog here. It's a good way to get feedback, and to to see how many people are reading it. So, I think I'm going to try having a poll every week, even if it's for something frivolous.
This week, Leanna's name. Since I'm changing her face, I'm also very tempted to change her name. I've been leaning towards Sienna instead. Her surname is Marseilles, and I feel "Sienna Marseilles" sounds a bit more news anchor than "Leanna Marseilles". So, what do you think? Here's both names with a pile of others I could live with…

Loading ...
Feel free to add any of your own suggestions below too. If people like them, I may do another poll next week with this week's most popular, plus those. Sort of a 'round 2′.
Comics
Finally, last weeks poll concerned me making the occasional comic for the site. Opinions were mixed, but since making a comic would consume time I could be working on a game instead, they decided they'd rather just have the games.
I think my brain may need the occasional break from just doing games, but I'l see how I feel as time progresses. One possibility I'm considering is making a short comic to go with the advent calendar this year. I normally try to aim for something a bit special for the final day, and I think this could fit well.