Just a quick update from me today.
After various tests and assessments of what I can do this summer, it looks like there's a final decision of what my next game will be. As hinted at before my break, I will be working on Photographer Part 3.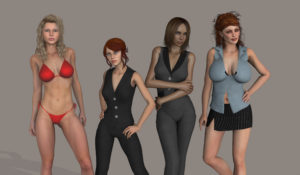 As you can see, it will be rendered in Poser as opposed to daz studio and IRAY in order to make production much quicker. I will also (most likely) just be using the white male player character. It will also be a game for the members section, though we will also be releasing a game for free (not a new one).
Also note that all characters seen in the image are not final versions (except Maddison of course).
There's still a lot of details to figure out, not least of all the setting. Since this'll be released during the hottest months, I am very tempted to do an idyllic paradise island style setting  (lots of characters in bikinis). I'm also not sure yet how many parts it will be released in.
No news from dsp3000 just yet. I'll let you know any progress with Bridgette Part 3 as soon as I hear it.