Sci-fi Story has now been released and can be played in the members section right now.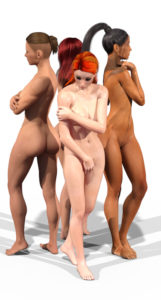 Some final words from MrStomper on his new game…
And now some boring statistics: VDG: Sci-Fi Story has slightly over 1 050 pictures and 104 animations, with 55 sex related. Using DSP's counting method, all together the picture count is slightly over 4600. After the testing I find out it's best not to use Internet Explorer or Edge to get all the functions to operate properly and  as intended.
Like when you end a session it should remember where you were and the next time start from the same spot.
And one last thing I forgot to mention last time. Keep an eye this eye icon

It allows you to switch view during certain scenes that were just especially suitable for another point of view.
Go play it! I hope to see you all soon. Until next time, have fun!