Today, MrStomper returns with some details on his upcoming game…
Hello again. It is I, MrStomper, and I have some wonderful news to share with you today. My next project is almost done! Only the bughunt and polish remain. So I can finally reveal to you that…
I cannot reveal much. You see, I have decided to do something a bit different. Something not exactly straightforward, something with an important element of "unfamiliarity". And when you are thrown in a place you know nothing about and must learn about it's environment and inhabitants, saying anything about the environment or the inhabitants will spoil it. So instead of telling you much about those, so you can enjoy the unraveling properly, I will tell you about the inspiration behind it. And here we go:
You may not be familiar with the original Star Trek, but it had a fun element of the captain visiting different planets and teaching local woman a custom from Earth: kissing. And this premise is behind the idea for the story at hand. It is just little shifted towards the spirit of VDG as you will be showing hot alien women the human custom of hard fucking.
I guess that now many of you are now telling yourself: "That sounds stupid!" And you are right. But just bare with me and let me explain myself.
As I said earlier, I wanted this to be a little different, so I was looking for a way how to bypass the usual story build-up for a sex scene (which may even take up several games), so the entire story has not only more, but also more evenly distributed sexytime. And after a long time of thinking I finally come to the perfect solution as I said to myself: "Well, fuck it! Let's go batshit crazy!" And there is no better time and place for this than the FUTURE! And soon after the premise for the story occurred to me and jump-started
this whole thing. Sci-fi is a lazy excuse, but it allowed this story to be exactly what I wanted it to be: crazy, full of sex and hot women and with a just a dash of mystery.
Also, I understand the nature of the game and that not everybody is here for the story. Don't worry, it is more an underlying thing holding it altogether, so if you are not interested you don't really have to pay attention to it.
Some preview images will not be from any situation you might encounter. It is just a showcase of the girls you are going to meet in situations not present in the story, nor being in any relation with it.
And here is the first one: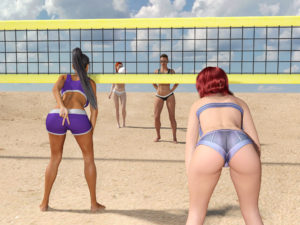 It was a lot of fun (and pain…) putting this together, but the VDG: Sci-Fi Story is now waiting just around the corner.
Next week, in this same fashion, there will be more preview pictures that will provide a better look at the female cast and I will tell you more about the gameplay mechanics.
(And hopefully a certain release date)
Until then, have a great week!