Leanna Epilogue
Today I'm happy to announce that Leanna : The Big Streak will be released for members next week, Friday March 9th.
In case you haven't been following the blog updates, this is a fairly small game (probably just under 200 images). Stranded just outside of the city, Leanna is dared by the player to streak all of the way back to her apartment.
There's been an alteration to the game, but I think it's one that most people won't mind. Rather than streaking with the player, Leanna does the dare solo, and you control her for most of the game. Not having to stick to conventional, first person camera angles means that I've been able to get some much better images rendered that really showcase how she is naked in the open scenery.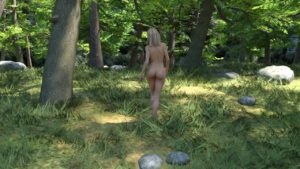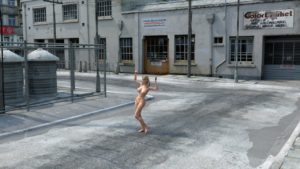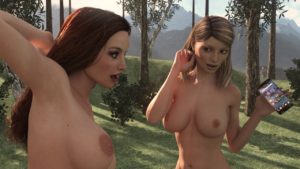 And also…
Since this is a smaller game, I'd like the update to be more substantial. So, I'm also going to add a decent sized set of images I'm calling 'vdategames image collection – Vol 1'. Expect around 50 high resolution images of various different characters from the site, most of which will be nude. It's like the advent calendar I do every year, but without the Christmas theme.
If it's well received, I could certainly make this a regular things (maybe every 2 months).
What next?
And after that, I'm going to take a break.
You may have seen me discussing this in the comments section and twitter, and I think it's the right decision. I haven't really had a substantial break from making games since June last year.
I know why – after the first version of Leanna was released, I had a brief break, but pretty much went straight into rendering the extra gender and ethnicity options. Since that was frustrating, and I didn't get everything done I wanted to, I went straight into planning the next game. Since I didn't give my brain time to breath, I've been indecisive, starting multiple games but loosing conviction as I haven't had time to think them through properly.
With this new update, it seems like a good time to take a break and come back with renewed conviction.
So, what is the next game
After Leanna's big streak, the next game will be dsp3000's Bridgette Part 3. Don't expect it too soon though as it's set to be much bigger than parts 1 and 2. A release date in April seems most likely (though not guaranteed). Expect blog posts from dsp3000 in the coming weeks.
Right now, my brain likes the idea of trying to combine games. I have a plan to combine Marianna and Molly (in the Nascar setting). It'll be cool, but big. A release date just before Christmas seems likely.
So, what to do between now and then? I want something substantial, but fairly easy and stress free. Photographer part 3 seems like a good choice. It should be quite a fun/relaxed project if I a) Use Poser to render everything rather than IRAY. b) Just have the white, male PC. c) Release it in a few parts.
The basic story would have you trying to save Mr Hughes's pseudo Playboy company following his death. It's been acquired by a new character, Mia, and you team up with Maddison to recruit enough new models to keep the business going.
This would be a members only game, but I would transfer an older game (or games) to free to compensate.
That only leaves Crystal Part 3. Next year will be the 10th Anniversary of Crystal and myself's first game. It seems very appropriate that it could be released then.