Success! I finally know where the site is going for the next 6 months (or however long it ends up being).
Thank you to everyone who voted and commented last week. A combination of that and various other personal factors means we have some results I'm happy with.
Leanna : The big Streak
So, I'll cut to the chase. The first game I'm going to work on is the Leanna streak game. It's simple, it's easy(ish) and it's not too big. It's based on characters I already have and many scenes I've already set up. I'm aiming to make it a members only game as I am feeling compelled to do something for the members section right now.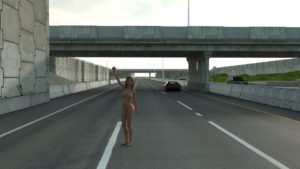 Production for the game should only be 4 to 6 weeks. In theory, I could do it quicker, but I'll also be working one a much bigger game alongside it.
Marianna : Speed Demons
Yes, after much deliberation, I've decided that this is the most practical way to go. Marianna's game was the second most popular one pitched last week, so I'm pretty sure this'll keep everyone happy.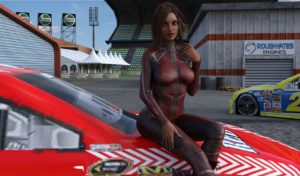 As you can see, I've decided to switch her back to the Nascar setting I originally planned. I have lots more ideas for her in this setting compared to Molly, so I'm very confident about it at this point.
I switched to Molly at a while ago thinking that her looked made more sense in this setting, but after some research, I've found that Mariannas look is more than appropriate. Feel free to google Danica Patrick or Maryeve Dufault to discover that drivers can still certainly look glamorous.
Over the coming weeks, I'll be posting many more updates and images for this game.
It will be free, but released to members earlier (probably a month).
Other games
Quite a few interesting results last week, so I'm certainly glad I did the polls like I did.
The final results were (in descending order) :
A New Maddison game – 8.8
Marianna – 8
Crystal Part 3 with new Crystal – 8
Molly – 7.7
Leanna's streak game – 7.6
Crystal Part 3 with the old Crystal – 6.2
As you can see, there was barely any difference between the middle four games, which was a pleasant surprise for Molly in particular. Whenever there's been a 'verses' poll, she's always lost, but here it seems that people don't dislike her, they just always like someone else slightly more. I'm not sure if she's going to be the secondary woman in Marianna or if she'll get her own game, but I'm certain to use her somewhere.
Obviously, Maddison came top and I'm sure the posted picture did a lot to sway that. I like the idea of doing a photographer part 3 game featuring her, but I don't really have enough women for the various photoshoots yet. I like the idea of maybe returning to it after Marianna and Molly have been seen naked elsewhere. The photographer games are always meant to showcase the previous set of characters in one game, so having Leanna, Marianna, Molly, new Crystal and others (Debbie?) all being models in it makes sense.
For Crystal Part 3, I do like the idea of a new Crystal, but I think I'd still like to work on the new version a little more. Hopefully, to integrate more of her old look with the new one.
2018 is looking very fun for me now!