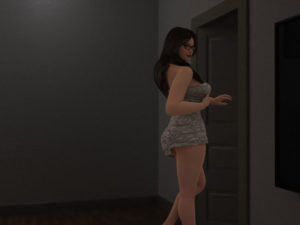 Just a small mid-week update today.
Bridgette
Thank you to everyone who has reported bugs in Bridgette part 1.
dsp3000 has sent me the correction files and I've uploaded them. All reported errors should now be corrected. I recommend downloading the new 1.1 version if possible. If playing online, remember to refresh (I'd actually recommend emptying your browsers cache just to make sure it doesn't get confused with the old version).
And a quick poll from chaotic…
I don't want to draw too much attention away from dsp3000's release, but obviously, I'm still working on getting a final version of Leanna released.
The render times on the animations are taking a massive amount of time. I'm still only just about to finish all of the renders for the alternative male player ethnicity. Although all of the female player options for the non sex scenes are all done, I still haven't rendered a single image for the girl on girl sex scenes.
I could just finish the game and release later this week with the two male player character options, plus a few expanded scenes from the version you know. I could then actually start on my next game.
Or, I could persevere and add the female player character options. This means that the full version of Leanna will not be released for a while longer, maybe even until February. If I did that, I also wouldn't be able to start a new game rendered in IRAY until then.
So, how does everyone feel about the 2 options.

Loading ...
This isn't one of those definitive polls where I'm certain to go with the top answer, just one to get a feel for where people's minds are at. I'm also open to third options if anyone wants to suggest them.
EDIT : Secondary poll too
Thinking in terms of the future, if I do a follow up game with the same player character, I'll have to do all of the extra genders and ethnicities every time then too. So, here's one more question to follow up.
Remember, if I have to spend less time doing the gender and ethnicity options, it means I can produce more games per year.

Loading ...

Loading ...