Before I address my work progress, I want to take some time today to talk about something that seems to appear every so often in the comments section and in my emails ; fetishes.
Fetishes
Although it's not the main content of most comments or the emails I receive, it's fairly predictable that throughout the year I will always receive a fairly steady amount of requests from people to include their fetish in one of my upcoming games.
So, I decided to make this handy little list of every fetish I can think of and classify them in accordance to how likely it is that they'll ever appear.
Green category – Likely to appear
These are the fetishes that I personally like and have a 100% chance of appearing in my games.
Public exhibitionism
Outdoor sex
Dirty talk
Lesbianism
Facials
Voyeurism
Masturbation
Yellow category – Maybes
These are the ones that I'm not really into except occasionally if I'm in a certain mood, but am willing to include if there's a sufficient level of interest in them. If I have a poll and about 75% or more vote in favor of it, then I'll have it in my game.
Anal
Girl on girl incest
A boy+boy+girl scene (or any scene featuring multiple men and one woman)
Light S&M or bondage
Monster sex
Feet (really not into this myself, but nothing against it)
Creampies
Squirting
Red category – Will never include
These are the ones I'll be including when hell freezes over. Maybe if you offered be $100K to include one I'd think about some of them, but until then you'll never see these in my games.
Rape
Blackmail
Boy on girl incest
Futa/shemale/'chicks with dicks'
Peeing
Pooping
Breast milk stuff
Underage
Necrophilia
Period play
Heavy/hard S&M
Cheating/infidelity
Bestiality
If there's one I missed and you're curious about, feel free to ask below and I'll and them to one of the three lists.
Leanna
Work on Leanna is still progressing at a steady pace. I'm still optimistically looking at a release date in May.
As an alternative to the yoga class, you can a choose playing basketball with Leanna's 'friends' instead. Here's a couple of previews from the sequence.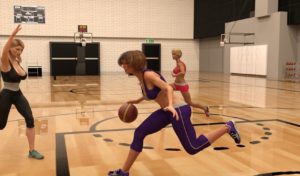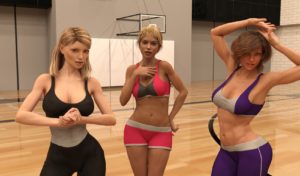 Girls section
Something I forgot to mention last week!
When I released Photographer Part 2 for free, I also updated the girls section. It now includes every lady from my newer games, and everyone from dsp3000's games.
http://www.vdategames.com/girls.html
Poll
Is there any interest in slightly more 'toon' characters. That is, women with a slightly more stylized look to them. This isn't my own creation, but it's a good example of something I could create.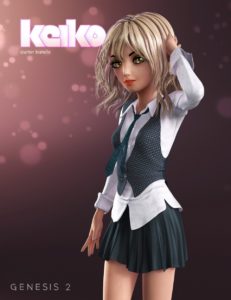 The character wouldn't necessarily look like that though. Alternatively, I could get something looking more like Elizabeth Comstock from Bioshock.
What do you say? It might be fun to experiment with character designs a little after Leanna is finished, but I can understand why some people might find them off putting.

Loading ...