Photographer Part 2
The Photographer – Part 2 has now been released for free.
You can find it here for online play or download : http://www.vdategames.com/phot2.html
Sadly, Kexter wasn't able to find the time to convert the game to a new engine (he's a busy guy), so I went about doing the conversions I felt were necessary myself. This was mainly just how the animations work. I converted all 140 or so GIFs to image sequences instead. Everything works and flows much better now. If you already have a copy of this game from the members section, I encourage you to a get a copy of this version too as the animations work a thousand times better.
The final game is now over 10000 images in size and about 3GB to download. This mean I've been having some trouble finding flehosts as most don't permit files that big, or if they do, you have to pay for the privilege of downloading them. So, since the site has been good so far, I've actually added the downloadable file as a direct from this site. Hopefully, that will work well. If you can't see the new download link, remember to refresh the game's page.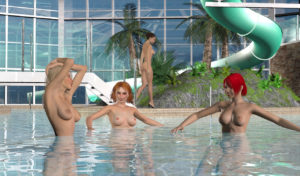 Other games
Progress with Leanna is still going fairly well. This week, I've begun rendering images for you second 'date' together. I'll be sharing some of them next week.
Nothing to report from either dsp3000 or MrStomper. When there's something to say, don't worry, I'll say it.
Poll
Now that Photographer Part 2 is released, who's your favorite lady from it? Pick up to three.

Loading ...