EDIT : having a few last minute difficulties with photographer part 2. Hopefully it should be online before the end of the day.
Welcome to March, everyone.
Photographer Part 2
Photographer Part 2 is still due to be released for free next Friday, March 10th. The main reason why I want to leave the release day until then (rather than just releasing it today), is that hopefully Kexter will be upgrading the engine so it runs smoother. He may not have time though – he's a busy guy. We"l see what happens. Either way, in one form or another, it will be available for everyone next week.
Leanna
Despite her getting de-prioritized, I have been working still on Leanna : Fading the Facade. This week, I've mainly been creating renders for a scene when the two of you are due to meet in the morning, but Leanna failed to set her alarm and slept in. As a result, she's dressed more casually, and her hair is very unkempt.
As I stated last week, I am also going to be going back though the game and adding images for ethnicity options. That is, the images that show if the player wants their character to be black.
Here's the new female player character with darker skin.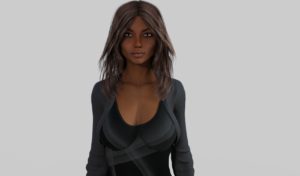 I'm still not 100% satisfied with her though. Her skin still looks a bit too matted and there's something a little off about the color tone.
And here's the options for the Male player characters. As decided/announced in previous blog posts, you will have the option of seeing certain moments (such as sex) from a third person angle, not just first person POV. In these, you will be able to see the female players characters face, but the males's will always just be out of shot or obscured.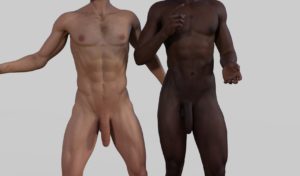 For this game, I've also decided to give the male player slightly more size in their genitals. I don't want them too big or 'cartoon-y', but a bit more substantial length and girth should make the sex scenes a little hotter.
Poll
This week the poll's all about tattoos. Do you like them on virtual women, or do they spoil what would otherwise be a perfect natural sight?

Loading ...