A fairly long series of small things to get through this week, rather than anything large.
Before I start though, a quick message for dsp3000. I've been having trouble sending you emails recently. Judging by the automated email I get in response, I think maybe your inbox might be full. If not, could you email me an alternative email address I could use to contact you?
Now, onto the rest.
Tutorials
First thing – I want to bring your attention to is the tutorials sections. A few people have been asking about this recently and didn't realize it was there, so I want to bring a little emphasis to it.
A few years ago, I thought it would be a good idea to write a complete guide on how to make these games, so I spent several weeks doing just that. I assume it worked well as these are the tutorials that Dsp3000 and MrStomper used to learn how to create games.
So, if you're interested in making games like these, or maybe just the images, see the tutorials section to learn how.
http://www.vdategames.com/tutorial.html
Leanna
Progress is continuing. The biggest thing to report this week is that I've decided to add an extra variable to the game.
Although the player is interacting with either Leanna or Kristen for most of the game, there are some scenes where neither are there. This means that dialog responses and other choices, actually made no real difference and were just there superficially.
So, what I've done is added a 'personality' variable. Different responses add to several different secondary variables, such as 'nice', 'aggressive' or 'rude'. After these values become distinct, your personality will develop a statement, such as 'Perfect human being' or at the other extreme, 'Total dick'.
The personality type you develop won't make a major difference to gameplay, but I'll add some subtle ones such as small bonus scenes. It'll also be fun to see which personality types you can get, and give some relevance to the scenes without Leanna or Kristen.
The other good thing to report is that I've found a plugin which allows me to batch render IRAY images overnight, so hopefully the game production will progress quicker now. I should be able to get up to an extra 70 images rendered a week this way.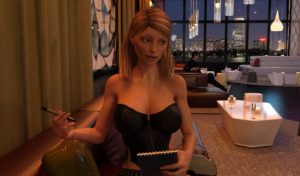 ArianeB
On Tumblr, I posted an image including ArianeB, Betsy and Violet, and some people were asking if it means anything.
Nothing special, I'm afraid. ArianeB's creator just posted up the list of resources she used to create the character, so I was able to create my own version or the character. I don't think she'll be appearing in any of my games though as I don't want to do anything with the character the original author wouldn't agree with. I suppose some sort or future collaboration might be possible though, with both of us writing and myself mainly doing the images.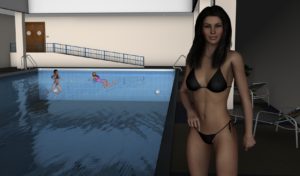 Tech
I've been informed by my server host that the site may be down for around 45 minutes on February 8th for maintenance, so if it is, that's why.
Poll
I'm having trouble deciding on the exact scenario for how you should see Leanna naked for the first time in her game. I have a few possibilities that could work, one just isn't that hot (more 'romantic' instead), and the other basically has the player just watching for a long series of images instead of making choices, which I don't like (I prefer it when the player is always making choices as often as possible).
The third option is one that works the best, but the problem is it's a photoshoot, and I have already done a massive amount of these in my previous games. But is that a bad thing? They are hot. There's a reason they turn up so often.
So, the question is, are you tired of seeing photoshoot scenes, or are you still always excited to experience a new one (as long as it works a little differently this time, of course).

Loading ...