Leanna
Progress on Leanna, the upcoming new and free game, is still going steady. There's actually not too much to report on the game beyond that. Hopefully, we'll see a release date sometime in March, but it's still not something I want to commit to yet.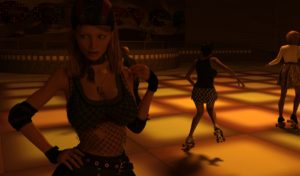 Leanna takes the player to a roller disco to prove how totally fun she is. It doesn't go well.
The player relaxes at home for a minute from the optional third person camera angle. Both male and female variants are shown. Note how the Male PC's face is obscured.
This week I've also decided to remove one of the 13 sequences from the game. The hiking chapter wasn't really adding anything to the plot that couldn't be done elsewhere, so I've just decided to cut it and probably use it in Crystal Part 3 instead.
The Academy
For those worried from my comments last week that dsp3000 had disappeared, don't worry too much. We've been in contact, all is well, and he is diligently working on Academy Part 4. There is not a scheduled release just yet, but it's assumed he'll be releasing it either April or May.
Polls
Thank you to everyone who voted in the poll last week. I've finally decided on a setup which serves a similar purpose to photoshoots, but also works very differently. It's basically a sort of striptease, role playing scenario with the occasional photo. I won't give away all of the details, but maybe this test render will give you a few clues.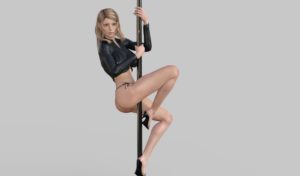 For the poll this week, a bit of a random question. Do you have a preference on what the woman should be wearing during sex? Heels during sex are pretty common (either in my games or porn), but do you prefer barefoot? Does it even matter to you? Let's find out.

Loading ...