The blog has been fixed! Hooray!
Ever since we had to move servers, I've had issues hosting the images. I've had to upload the images externally, then use code to link them here, which is a massive pain in the ass. Some of you might have noticed that the preview images have been the wrong size recently too. Anyway, I hired someone to fix it and everything's sorted now, so let's celebrate with one final post about April & Violet.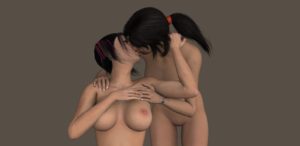 April & Violet
Back when I completed Betsy, I wrote a small evaluation of the game, mostly going over it's strengths and weaknesses. It was a fun experience, so for my last post on the game I'm going to do it again. WARNING : This next section will contains serious spoilers for the game!
The strengths
I really like the mystery itself. I have a particular fondness for mysteries where it looks like something supernatural is happening, only to later to reveal that it is very human, just a little bizarre. Most of the best Sherlock Holmes mysteries work this way for instance. The reveal of what Arias has been doing with the roads is a good example of this.
I also really liked the fact that I maintained the personalities of Violet & April, while also evolving them a little. April was a bit of a problem in that her main personality trait was her bitchy personality, but it wouldn't have made any sense for her to be that way with either the Violet or the player. I decided the obvious thing was to make her bitchy towards Dylan whenever possible, and I think it really works. To evolve her character, I also tried to make her seem particularly intelligent this time. Her failing grades in Betsy were suggested to be at least partly from a lack of confidence, so if she got a good grade at the end of that game, it make sense that she would continue to confidently learn. Violet's evolution was probably a little smaller, but I didn't want her to change too much as I loved writing her parts in Betsy.
There's lots for me to like when it come to the smaller things in this game too. Arias's poster in the abandoned town was my 'Chekhov's gun' moment, along with the locked door you can find in part one. Depending on your dialog choices, you can actually get Dylan to say that none of the doors are ever locked, just to emphasize the importance.
One of my favorite subtle parts though has to be April's bracelet, which the very observant of you may have noticed she never removes, even when naked and/or showering. Why? Look closely and you'll see that it really doesn't suit the rest of her outfit, it's style instead being the semi goth look that Violet normally dresses in. The backstory is that it's a gift from Violet to act as some sort of engagement ring, suggesting that they plan to get married some day. The fact that she never takes it off, shows that she really does love the crazy woman.
My favorite part of the entire game was the story telling scene. I had reservations about it at first as the whole scene basically puts the plot on hold for a while, but I loved the way it turned out. I could do an entire game of April telling stories and then Violet interrupting them.
The Weaknesses
As I said last week, I really struggled to get into the momentum of making this game again after a small break following part 1. I started doing a little work on Leanna instead, and the result was that I really wanted to focus on that game exclusively. This probably shows most towards the end of of the plot.
The original intention was to have multiple endings, including one where you could redeem Dylan, but this never ended up getting used. This is why some of you may have noticed the variable that is set when you suggest April apologizes to her. The apology was intended to be part of the redemption scene. In a weird way though, I think this works out a little better this way. Dylan switching sides would have been a little too abrupt. Maybe there'll be space for it in a future game if she returns.
Another piece of cut content that would perhaps make everything make more sense, was that Dylan's name was not going to be Dylan. It would turn out that Arias's name was actually Dylan and you would discover this as a clue when finding his ID at the motel. This is why Dylan's name was unisex. It might have been better to use it, but it also felt like an necessary twist.
The final scene in the cell was also a little rushed. Every one of Arias's lines was basically exposition just to get everything tied up as quickly as possible. There was going to be a sequence where you escaped, with Dylan's help if you 'redeemed' her. This I think would have been a little better, but my energy towards the game had really gone down by this point. I reasoned that it's not like I was cutting sex content, so no one would probably be that bothered. I still think it worked well as I did it, but some people were a little confused about what exactly happened to Dylan. She was take away by the cult when they captured Arias, but it's not 100% clear.
Leanna
Next week, I'll finally get to talk about Leanna for the entire post. A lot has happened since I last talked about things like the story and I can't wait to let you know all about it!
For now, I'll just leave you with an image of Leanna trying way too hard to look 'fun' at a roller disco.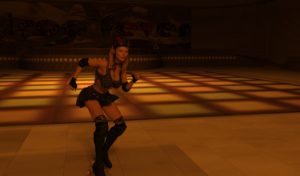 Poll
Obviously, I often have scenes with two ladies doing naughty things together, but is there any interest in a threesome with another man (or possibly lots of men)? I don't mean with the male player being intimate with the man, I just mean a scene where yourself (as a man), and another man (or several) all have sex with, say, Leanna at the same time.
I don't hear a request for it very often, and although dsp3000 included one in Academy Part 2, not many people commented on it. Typically, people tend to play games which include the things they like,and my games never include this, so my assumption is that it's not something you're all very interested in. Or are you?
A b/b/g (that's boy+boy+girl) scene would make a lot of sense for the 'low karma' ending of Leanna, so I'm considering it. A b/b/b/b/b/b/g perhaps even more so. Any interest, or is it not the type of thing you like in these games?

Loading ...
And, just for a little extra detail, now many other guys involved in this scenario would be acceptable to you?

Loading ...