Hi everyone.
April & Violet
EDIT : A new version with multiple bug fixes has now been uploaded. Not too sure what happened as some of the things I had to fix I remember already fixing earlier in the week (apparently it didn't save?), but everything should be working fine now. For downloading, make sure you refresh the April & Violet page and that's it the 1.1 version.
EDIT 2 : A walkthough for this game has now been added to he site. You can find it here : http://www.vdategames.com/walkthroughs.html
I am happy to say that April and Violet – Part 2 has now been added to the members section. Rather than release it in two sections, I've simply uploaded the complete game. As a result, you'll find it just listed as 'April & Violet' or 'April & Violet – full version'.
The final count for the complete game is 1774 images.
It should be on the same page in the members section as Part 1. As always, if you can't see it, remember to refresh the page!
For those of you stuck, I will be adding a walkthrough over the weekend.
Next week for the blog, I'll probably be doing a little evaluation of the game as well.
Everything Else 
So, after a small break, next week I'll be deciding what exactly to do next. I really want to persevere with Leanna at least for a few weeks to see how much I can get done. After that, I should be in a really good position to decide if she really is going to be the next game for the site, or if she'll be a later release.
Other possibilities are doing the Nascar centric game I was considering, Photographer Part 3, or Crystal Part 3. I really want to get something made with IRAY render though, so that would be Leanna or 'Nascar'.
Whatever happens, both Leanna and Crystal Part 3 are 100% happening sometime, it's just the other two games that are still in a 'maybe' category. I will also add that, Should Photographer Part 3 happen, I don't think I'll be doing it in parts. After a brief break between April & Violet Parts 1 and 2, I found it really hard to get into the momentum of making it again and finishing the second half. So, if Photographer Part 3 happens, I think I might just aim to make it one big game released in it's entirety.
To finish, Let's cover Leanna's body. Thank you to everyone who voted in the numerous polls last week. Lot's of interesting reposes, though I think the results of the second question, 'What best sums up your view of the bodies?', is the most important. 68% of you said that you would essentially be happy with either body, so adding that together with the other result, it seems a large majority of you will be happy no matter what shape she is.
For the last poll question, most people actually liked the compromise body the most, so that's largely what I'm going with. I made a few more alterations to it and now Leanna has a body that I think almost all of you will like, and I will enjoy working with.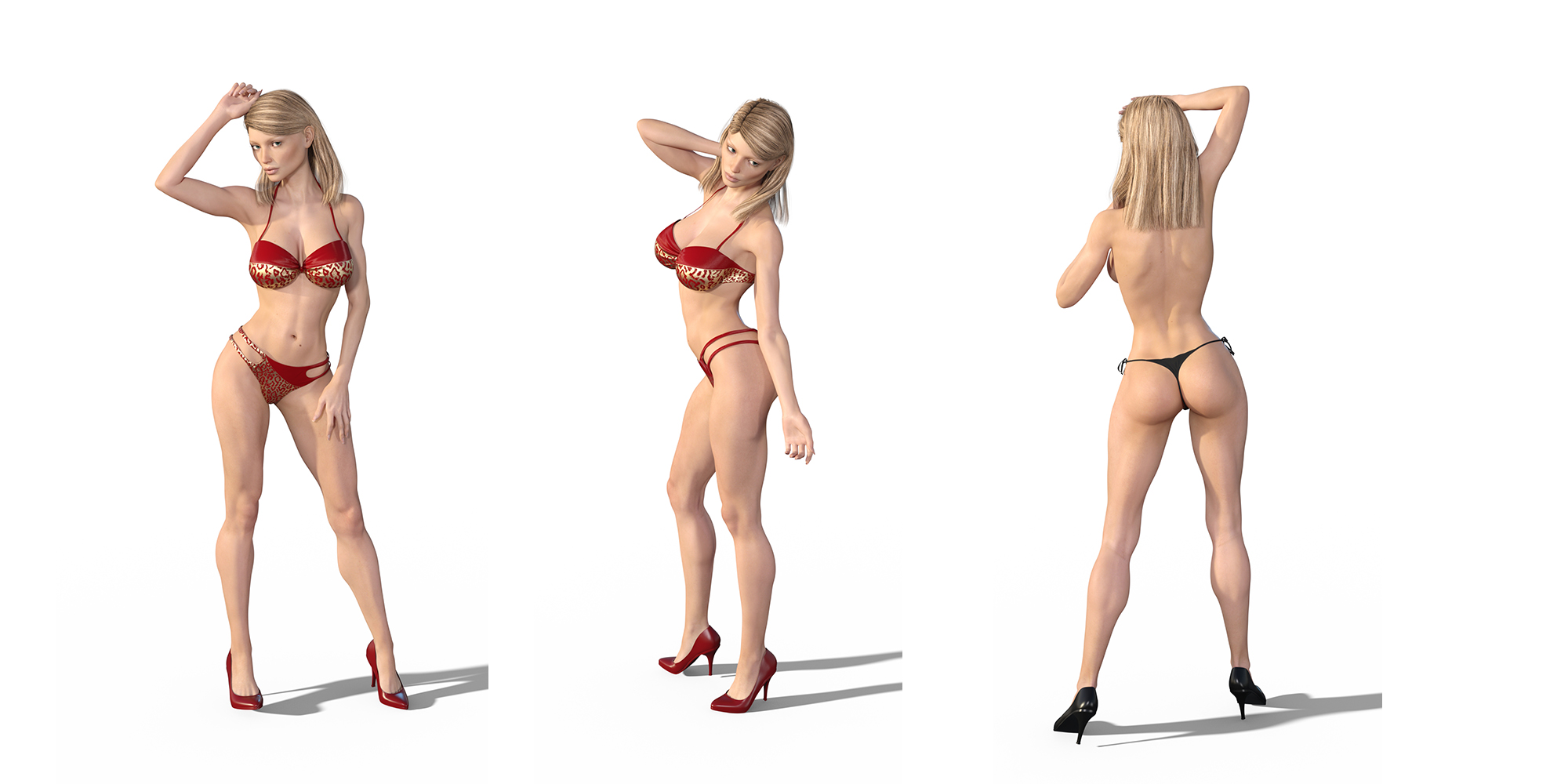 This poll isn't binding, but if you were to pick, which game would you like to see next. Leanna (the blond woman pictured above, The Nascar themed game with the (so far unnamed) Hispanic female, Crystal Part 3, or Photographer Part 3 (though that would be for members only).
Here's the test renders from the Nascar game if you missed them or forgot what they looked like.

Loading ...
See you all next week!