Thank you to everyone who's been voting in the polls over the past few weeks. They've helped me make up my mind about how this game should work quite a lot, even if I'm not exactly going where the polls tell me to with everything.
For perspectives, the plan is this. The game will mostly function in first person, but I'm going to add a 'cinematic mode' button. Whenever you see it, you can click the icon (probably a clapper board), and it'll switch to third person for a better view of what's going on. It'll be optional though. If you want to ignore the icon and just the play the game in first person, you can.
I'm reserving the right to just have it switch between first and third though. Having the switching option will probably mean rending two sets of images for things like the sex scenes (one set for each angle), and if it becomes too much work, I'll probably remove it and just have the game switch between first and third person whenever it seems appropriate.
In order to reduce the amount of images I need to create, I'm also going to skip the option for ethnicity just this once. They'll be back for Mia, but for this game I'll just be having the gender options.
Here's what each of the genders player characters will look like.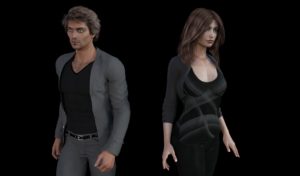 I've now fully started production of the game, and have a nice pile of renders completed.
There is also one final character I'd like to introduce this week.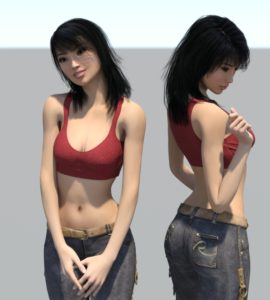 This is Dylan. I didn't mentioned her last week as she isn't truly one of the main characters though. She's the receptionist of the Motel who goes missing for most of the plot.
She's still a notable character though, and the player of either gender will be able to have sex with her.
Last week, I also mentioned that I would be announcing something new and cool to the site, so here it is!
We have a new contributor to the site. You can call him MrStomper, and, similarly to dsp3000 has followed the tutorials to create his own game for the members section. Next week, you'll be hearing from him about his own creating, Anna.