Jennifer has now been released.
Because this game is a little different, I'm calling what I uploaded today a beta. I've thoroughly checked the game, so I know there's no dead links or similar major problems, but it is possible that a few of the sound files may be incorrect.
I will upload a slightly refined version on Monday, which will also give an option to display images instead of videos if anyone is having problems with that aspect.
A free demo is available in the games section for those of you who want to try it out.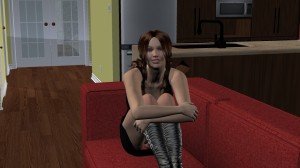 EDIT : Hostgator have sent me an email saying that the members area is getting too many requests (because they changed the way the account works. Without asking me.) I'm looking into a temporary upgrade, but in the long term I'm guessing I'll move the hosting over to the main site's package.
For now, just keep refreshing as it should eventually load.