Weekly renders
First, time for my weekly render.
I actually did 3 this week as this scene was much quicker to render than the lagoon. Marianna last week, so this week it seems appropriate to use Molly.
MrStomper
MrStomper is gearing up for the release of part 2 of his Anna sequel, though we're not quite there yet.
I was asked to add this render with simply the words "MrStomper sends his regards". 🙂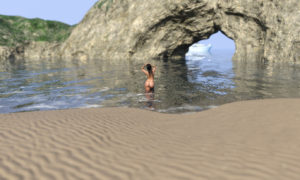 Anna Walkthrough
I have also added a walkthrough for Anna to the site this week (it was previously only in the members section).
Dsp3000
I will also add that I have heard from dsp3000 recently. He has been very busy with his 'real world' job as a result of the pandemic, but is still OK and well. The release of Academy part five is still a very long way away.