Molly and Marianna
I'm nearly at the end of rendering all the new animations for Molly and Marianna. After that it's just a case of filling in some narrative gaps, maybe adding an extra small scene and finishing the new writing.
A release date of 2 weeks today is a distinct possibility, but as always, we'll see.
In the meantime, here's a Molly promo I forgot to post a while ago.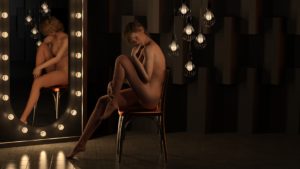 Crystal Part 3
Progress on Crystal part 3 has mainly been in my head the last couple of weeks as I try and work out a good system for the plot which allows a lot of freedom, but also has a pretty strong narrative at it's center.
I like some of the new stuff I've come up with though.
Poll
Long term visitors to the site will know that I'm not really into much 'fetish' stuff, but I do have some things I can be into.
Which of these would you be interested in seeing in, say, Crystal Part 3? Pick as many as you like.
Note : Please do not suggest your own fetishes for this poll. This is about finding something I can share your convictions in.

Loading ...