Happy new year everyone!
Just a list of small things to post today.
Previous Advents
As I normally do, here's a link to all of the previous advent calendars, including last year's short story.
I'll leave the current calendar online for a little while longer in case anyone wants to save all of the images. Fun fact I forgot to mention – all of the images are 1920×1080, so they should work as wallpapers for most of you.
Leanna's black male PC
Although I'm not adding it to the game properly, I might as well share all of the images I made for the second male player character in Leanna.
What to expect from the site in 2018
From myself (Chaotic), I'm planning to do at least 2 games this year. Ideally, I'd like to squeeze in 3 since Leanna took up so much of my time in 2017, but we'll have to see what happens.
Currently, I'm making plans for my next IRAY rendered game, Molly. The intention is for this game to be free, but with earlier access given to paying members.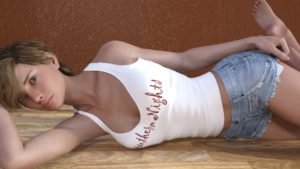 I'd like to do at least one new members only game sometime this year too. It'll probably be smaller (Miranda sized), but I'm not sure what it will entail just yet.
I'm also going to reorganize some parts of the site. Since Tumblr updated the way they work (you have to be logged in to view images now), I'm think I'm going to start posting on twitter instead. If the image is flagged as adult, you still have to click on it to view, but you don't actually have to have an account or be logged in.
Next week, I'll be posting a full evaluation of Leanna : Breaking the Facade. See you then.