Today, I just want to share some of the cut/alternative stuff from Leanna with a quick explanation as to why is was removed or chnaged.
Strip club
Originally, the plan was for Leanna to perform on the stage at a crowded strip club, but in disguise so people didn't recognize her. The main reason I didn't like this was because it would be the first time you see her breasts exposed, but her face would be covered. I feel for a moment like that you should be seeing her face too.
Having an empty strip club instead also means that I didn't have to bother with crowds, which is always good.
Longer streak ending
I had a few more locations included for the streak sex ending, including a dirty looking alley.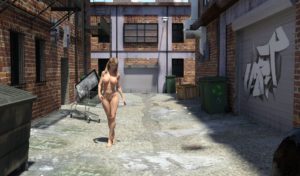 The reason I only added the locations I did is just because I wanted the project to end. If I'm in a good mood, I still might add this at a later date. There was also an unfinished motorway set and an underpass.
Pubic hair
I did some tests where Leanna has pubic hair rather than being shaved.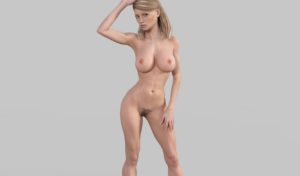 I prefer shaved myself though, and wasn't persuaded by how the pubes looked. I'll have a main character with pubic hair for a game in the future though.
Cum shower
Finally, this is a weirder one.
For the ending where you just stay at home and have sex with Leanna, I wanted to have it be particularly dirty. For a while, I quite liked the idea of her wanting to cum on her, but leave it one for a long as possible. Over the course of the morning, she would make you cum over and over until she was covered.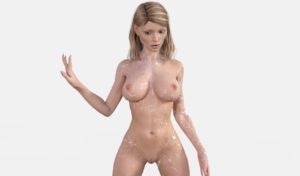 I get the tone I was going for, but in the end, it just looked a little silly. Here's some of the pics though for those of you into that type of thing.