Just a small post today to show what I've been doing this week.
In the last update, I mentioned that I would be experimenting with some ancient Egypt assets I bought. Well, I did and here are the results…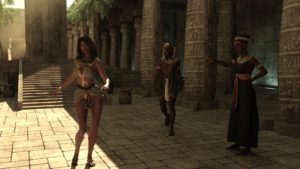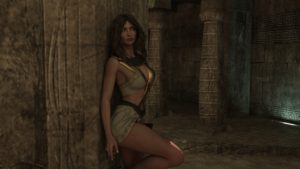 Some of you may notice the lighter skinned woman as the female player character from Leanna. This is because I'm trying to find a use for her. Around when I discovered the faster way to render IRAY images for the game, I also decided the remove the most of the shots where you will able to see the player from a third person angle. They weren't adding anything satisfying to the game content and just creating more work. Right now, you only have the option to switch to third person during the animations (basically, the sex). It can give you a much better, and hotter view of what's happening.
So, as I say, showing the faces of the female player characters became pointless. I rebuilt the female pc bodies so that they are no longer the woman you see above.
I know some people were into her however, and I'd love to find a use for the model. If these images turn into a short story, that seems like a good option.