Hello everyone. Time for another blog post, a little earlier this week as I want to work on creating images tomorrow.
While I did say that the polls last week were not a definitive way of judging what game I will be doing next, it looks like I've been swayed by them. Using the pool party template as a starting point, I've worked on a premise and story I really like. Here's the basics…
The Motel (working title)
In the middle of the Great Basin Desert, there is a lonely motel. Tired from driving, your only option is to stay there for a the night. The place is a dump, but the only other people there are three attractive female guests and the receptionist. There's also a very nice pool around the back.
After spending the night there, you wake to discover the receptionist missing, all of your cars have been drained of gas, and none of the phones work. The guests must work together to discover a way out of it, and a way to leave.
Although it probably won't be part of the game, here's a promo image I put together to showcase the main characters and the look I'm going for…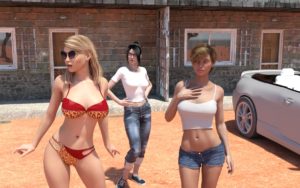 As I suggested last week, all of the characters will be based on the Genesis 2 and 3 base model, which generally look better than the ones I normally use.
After 'The Motel' has been finished, I'll likely be working on Mia, then Crystal Part 3.
Since this is game of experimentation, there's one more thing I'm considering and would like some feedback on. I'm thinking about not having it be in first person. Some of the shots and plot twists I have in mind would work much better from third person cinematic angles. It also means I can use some poses for the sex scenes I don't normally have, which might be interesting.
Just to clarify for those who don't understand what I mean, 'first person' is when you see everything through the eyes of the character. Essentially, the camera is their eyes. 'Third person' is when you can see all of the characters and the camera is watching them.
So, just this once, I'd like to have a player character you actually see, but I want to have some feedback on the idea.
As I said, it's not the regular way the games will be going from now on, It's just a one time experiment. He will be a white male, and you will be able to name him and control his personality, pick dialog responses etc. It'll basically be the same as what I normally have, except you'll actually see him.

Loading ...
Next week, I'll be announcing something cool and new for the site which I'm sure will be making a lot of you happy.
EDIT : Here's a large promo to give you a good look at each of the main women.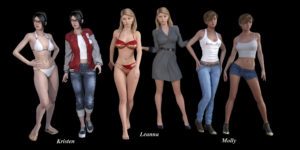 And for the hell of it, let's have another poll over them.

Loading ...
EDIT 2: Another poll with more specific options fro what people want to see.

Loading ...