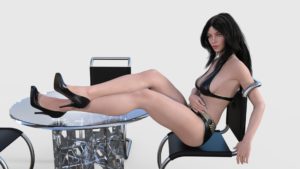 I know not everyone keeps constant track of my blog here, so today I'll be trying to go through a fairly thorough summary of what to expect from Crystal Part 3.
What is it?
Crystal part 3 is the third part of my Crystal trilogy which I started all the way back in 2009. It will be canonical with parts 1 and 2.
This will be a members only game (at least initially, of course).
What's the setup?
You (the player) are already in a relationship with Crystal. However, you haven't been seeing much of her recently. This is because she has been training to be a professional swimmer and compete in the Olympics, with Erica as her coach. Erica was also aiming to be a competitor, but had to drop out due to injury. Now as Crystal's coach, she is overcompensating and pissing her off.
When she visits the city for the first time in months, Crystal decides to rebel against Ericas instructions to train through the evening, and instead hits the town with you.
How many locations?
Eight, plus the hotel you're staying at and the locations there (your room and swimming pool).
More may be added later. The game is designed so that new locations and activities can be easily added.
How does the gameplay work?
You can visit any of the locations outside of the hotel in any order you want. They include things like a strip club, restaurant, lingerie store and nightclub.
Each of the locations will have some sort of 'sexy' scenario you can unlock. It won't be possible to see every scenario in a single playthough, as you will still need to visit some to raise her approval first. Hopefully, this will mean a decent amount of replay value. I think you'd have to play the game at least 3 times to unlock everything (and that's if you play it perfectly each time).
How many outfit changes does she have?
Crystal has 2 main outfits. The normal leather ones based on her appearance in the first game, and her wilder looking clubbing outfit (as pictured at the top of this post).
She will change into her clubbing outfit at a certain point in the game,  indicating that she is interested in doing much wilder things.
How much sex in this game?
4 sex scenes with Crystal, plus a threesome involving Erica.
Summary
Hopefully this clarifies any questions anyone had. If there are anymore, feel free to ask them.
Finally, some more preview pictures.