Today, let's go through the various things planned for this site over the next 6 months or so.
Molly and Marianna
First of all, Molly and Marianna are almost certainly happening now as a joint game.
The key thing was deciding on what their 'second variable' would be. For Betsy, it was her confidence and you had to increase it. For Leanna, there was a small twist in that you had to decrease something rather than increase it (her facade).
I wanted to do something similar for this game, but notably different. The answer, was tension.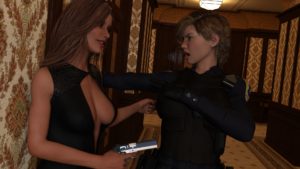 Molly, as established in Leanna's game, is a cop. Marianna is a notable criminal, and the pair have a notable history of one evading the other. For this story however, they have to work together alongside you, the player. The tension between them will start at 100, and your various actions with either of them can reduce it.
The lower the tension, the better everyone works together, and the better the outcomes of the story are. Obviously, less tension also means that both are more open to things of a sexual nature happening too.
Everything makes sense to me with this game now and I'm having lots of fun organizing the plot.
Photographer Part 3 – expanded edition
Before that though, the next release will be an expanded version of Photographer Part 3.
The plan I have right now includes 4 extra solo sex scenes and one extra threesome, as well and numerous scenarios during the daytime.
I should have this finished and released for early December.
Crystal part 3
As I stated last week, March 2019 will be the tenth anniversary of Crystal's first game, and I was hoping to maybe release part 3 to coincide with this. Looking at this schedule though, It'll likely be a little later in the year. Probably June/July.
Halloween
That's all for today. I will be posting more next Wednesday with some fun horror themed images to get everyone in the Halloween mood. See you then!