The continuing evolution of Crystal
Next March will be the 10 year anniversary of my original Crystal game, my first game ever. It's my intention to release part 3 of her trilogy to coincide with this.
In order to do the character the justice she deserves, I've been slowly working at upgrading her to the same Genesis3 base model I used for Leanna.
Here's where I'm up to.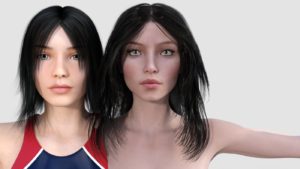 This is now with her original face morphs transferred over and dialed in a little.  She doesn't look exactly like her older model, but that's the point. Her original look really is just the base with a texture added. I didn't know anything about face morphs at the time, which is why her face may have seemed a little boring compared to my later characters.
I don't think I'm willing to say with certainty that this will be the final version version, but it should be pretty close.
Molly and Marianna
I will be going over more details of this next week, but I wanted to add a small note here to say that I've finally decided on a format I like for the Molly and Marianna game. So, that's one game starring both of them. More details next Friday, but for now have this hot preview pic of Molly.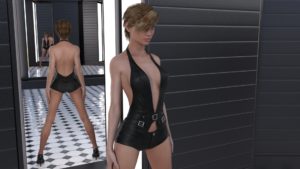 Poll
Based largely on the image above, what kind of rating would you give Molly?

Loading ...