An updated version of Photographer Part 3 has now been added to the members section. Although I have been fixing bugs and uploading throughout the week, everything is together now  in one big package.
If you don't want to re-download the entire thing, there is also a patch available. Just download it and merge the folder with the one you already have. Make sure you refresh the Photographer Part 3 page in the members section, otherwise you might not see the new content.
As well as numerous bug fixes and spelling corrections, there is the small upgrade of a titjob from Maddison during the sex scene with her. I don't usually comment on individual animations, but need to say that I'm very proud of this one. I really got the 'jiggle' of her breasts.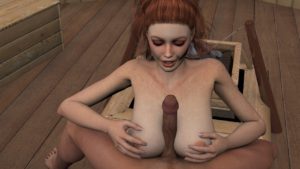 On a side note, I have heard from dsp3000. He is doing much better and trying to get towards the end of Bridgette part 3. While he's not at the end just yet, hopefully he'll have something for me to post here in the not too distant future.