Leanna
Pretty much just more of the same to report this week. Progress is continuing, images are being rendered and content is being written.
I did some math yesterday, and it's possible Leanna will be finished in about a months's time. It also looks like the game might have slightly less images than, say, Betsy. I think this game will have around a thousand when I'm done (unlike Betsy's massive 1600 ish), but I won't know for certain until later in development.
One thing I'd like to draw attention to is the title, which some of you many have seen in the coming soon section. The full title will be 'Leanna : Fading the Facade'.  I think I'm going to start formatting all titles like this – the name, a colon, then a subtitle. Standardizing it like that will mean people know which series and creator it comes from, as opposed to just having it be a name, which is kind of vague.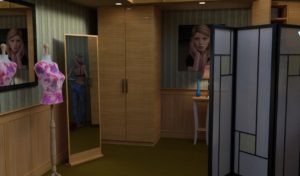 A casual conversation with Leanna in her dressing room.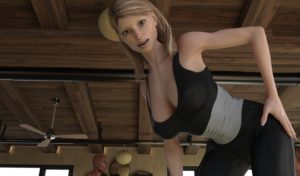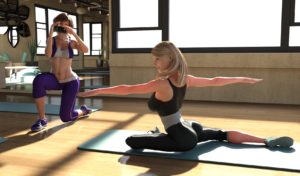 Two images from the yoga class you can share together.
Random extra
Earlier this week I had an idea for a game I quite liked and would like to share with you.
How about a game where you are helping a 'girl group', that is a group of female singers? A sort of Pseudo Spice Girls. There could be five of them each with their own personalities and looks. I could make sure there's at least one blond, one brunette and one redhead. I could have a variety of body shapes, some skinny, some more voluptuous. I could even have some variety in breast size, from large to very small.
It's not a full premise yet, but I like the idea of a game where it's centered around a group of women rather than just one. A bit like pool party, but with 5 brand new characters instead.
Let me know what you think below.
Poll
How do you like the sound of game idea above?

Loading ...