Time for a quick update on Crystal this week.
I finally have a fairly comprehensive plan for the game that I'm happy with. This means I'm deep into the next stage which is creating and setting up the various outfits and locations.
This will be Crystals main outfit.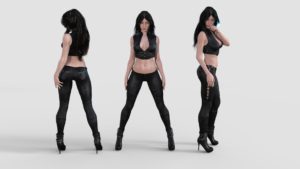 As you can see, it's a bit of a twist on the original, but also distinctly different.
Right now, I'm currently focusing on locations.
Here are some test renders of your hotel suite, and the hotels's pool.
That's all for today. Might add a poll here if I think of something.