Surprise! Time for another mid week update!
Next Members game
So, the main reason I'm posting today is that new information has come to light. I'm probably not going to have as much time to work on a new game for the rest of the year as I'd like. It's due to my 'other work life', but it's in a good way where lots of new opportunities will be opening up for me. Might also mean I get to have more free time next year, so more time with the site and making games.
I still want to do a new members game though, and still release it around the end of January as I normally do. I therefore need something simpler to do, but also something that's substantial enough to be worthy of a new members game.
I'm therefore very, very heavily leaning towards the Leanna game I mentioned in the last post. In case you missed it, the game was an epilogue to the main game and mainly centered around a large scale dare game where Leanna would have to get from point a to point b across the site, completely nude, and in broad daylight.
It ticks all of the boxes for what I need from this game :
I already have the characters designed.
I have many of the sets ready to use. Others are easy to get.
Since we already know the character and are in a sexual relationship with her, I don't need to spend lots of time introducing and getting to know her etc.
I'm enthusiastic about it because it appeals to my exhibitionism fetish
Next free game
So, what of Molly, Mariana and the Nascar game?
Judging by comments, Some of you seem to prefer Molly, and some of you prefer Mariana. I'm still open to the idea of Mariana being the main focus (I will find an excuse to use those hacienda models somewhere dammit!).
So, as a poll which would you prefer be the main focus of the game?
Here's a little reminder of what they both look like before you vote.
Mariana :
Molly:
And one with them both…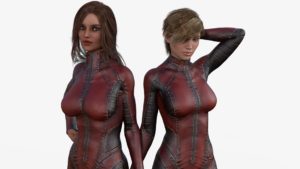 Loading ...
Other stuff
Another 20 or so images have been rendered for the 'complete' version of Leanna.
Also, for those of you still wanting the Maddison and Lisette scene you may be satisfied before the end of the year (*cough*advent calendar*cough*).