Hi again everyone! Yep, it's time for another blog post already. And it's a long one.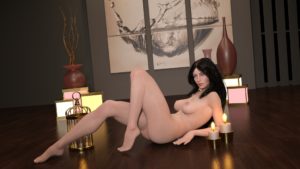 I'd normally leave this until Friday, but since there's a certain level of urgency, I decided I would go ahead today. 
For those of you who don't regularly check my blog, I've been taking a step back this year to work on anther project. But…It's looking like I might have a break coming up. Which means I might have about 6-8 weeks to work on a new game.
No commitment to it yet, it might not happen, but if it does I want to know what I'm making.
So what do I choose?
First thing I've already decided is I want there to be new characters.
My last 3 games have all had the emphasis on already existing characters. Crystal and Erica already existed, most of the cast of Photographer 3 already existed. Molly and Marianna may have been new characters to you, but I'd had both waiting in my runtime for over a year before I started rendering them. Molly was one of the first Genesis 3 characters I created.
Idea 1
A little while ago, Arianeb made her Ariane in paradise game, which was largely inspired by my Miranda game. I was thinking it might be fun to do something inspired by her 'Something's in the air' game. A game where you're allowed to go explore the city and see who you can meet and what happens.
I also have a basic premise of Violet becoming Mayor ('cause why not?), and her first act is to allow one day of the year where all nudity and indecency laws don't count. As long as it's consensual, you can do anything anywhere.
Basically The Purge, but with sex.

Loading ...
Idea 2
Road trip! You and three ladies take part in a road trip across the US.
More linear than idea 1, but what I like is that you could get to know the women well as the game progresses. Idea 1 may end up a little superficial when it comes to the relationships.
This idea would also allow for lots of 'naked in nature' scenarios, which I like. Naked car rides, sex in the woods, desert, by the road. Things like that.

Loading ...
Idea 3
A date? Seriously.
Crystal Part 3 is the only real 'date game' I've made made in the past 5 years. There's something appealing about doing something more reminiscent of my original Crystal game.
You have a date, you explore the whole city together, and you see how many sexy scenarios you can find.

Loading ...
Idea 4
I've had a notepad file on my computer for a while now filled with ideas for a horror premise.
You awake to find yourself on an island with 2 or 3 ladies. There's monsters, demons worshiping priestesses and the basic premise is that you have to escape.  Nobody wears many clothes and the whole thing goes a bit Lovecraftian.
Kinda similar to my April & Violet game, but more serious. 

Loading ...
And over to you…
So, yes, all of those options have polls, but as a disclaimer, they're just to gauge the rough popularity of each option. I may not go with any of them.
I am also (though I may regret this), open to any of your own suggestions. I'm after a premise that could branch out into lots of interesting options and locations. So, no 'how about a nurses game' or something generic like that.
Next free game
Also, I know this is a weird thing to just add to the end here, but I just wanted to say that I know it's been awhile since the last free game and I will be addressing this sometime this month.